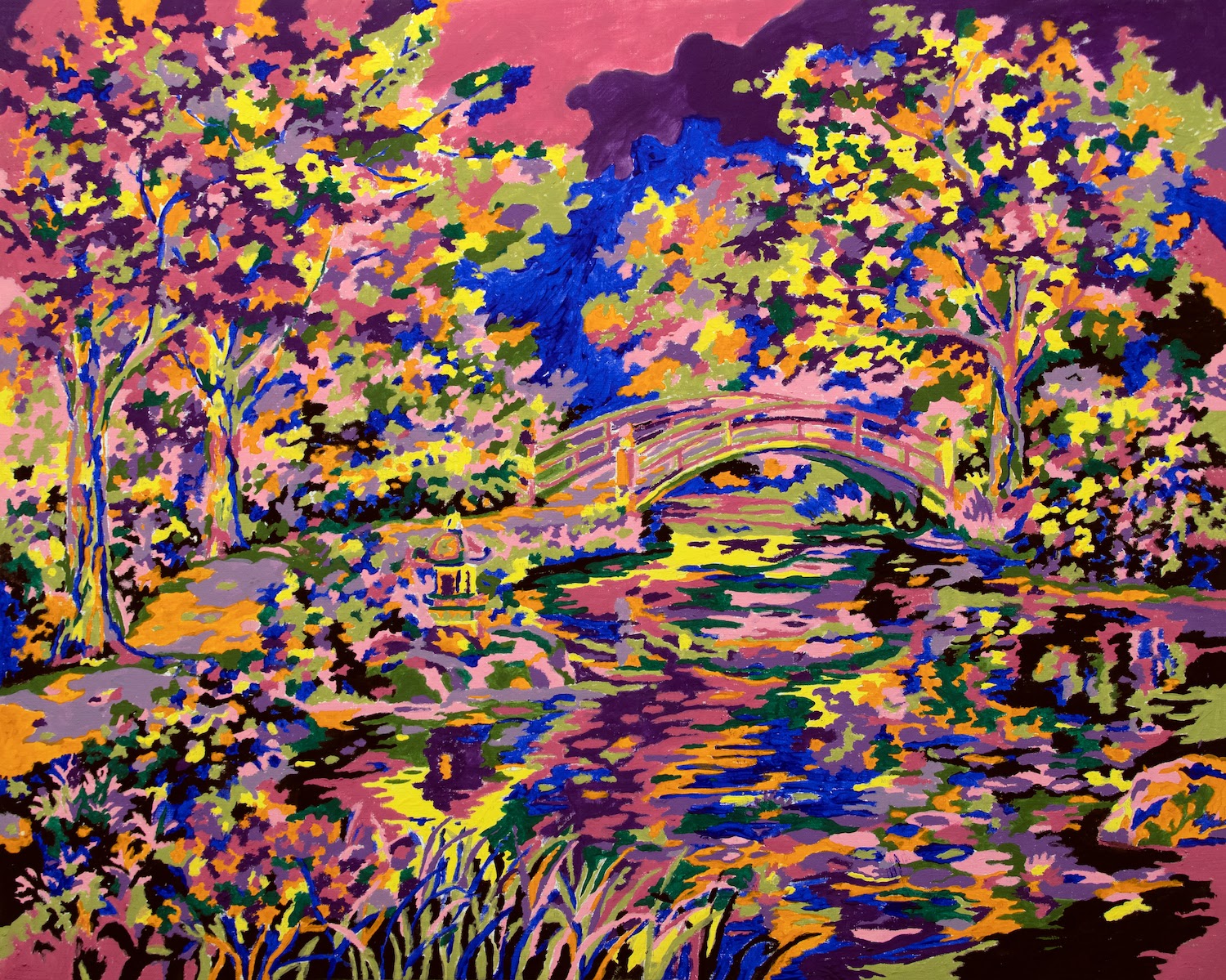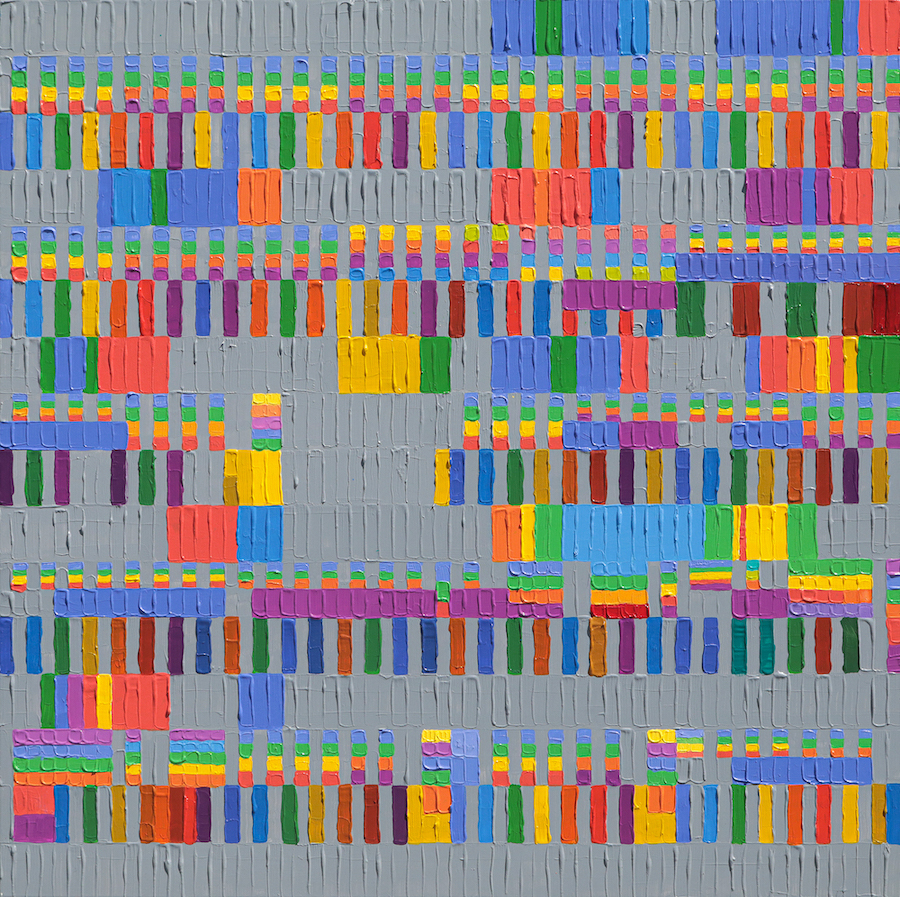 Coloratura



This Knoxville jam featuring artists Brianna Bass and Andy Demczuk calls for a reimagined music theory. Chords are transposed to light fractals of varying degrees of sharpness. Opacity percolates. Song templates and thoughts are uttered through an orchestra of color and imagery. The linguistics of music materializes just before deterioration. The assumption a new measure will come after, the feeling of a triplet, the sensitivity of a vibrato. These painted songs contain the joy and malaise that seem unavoidable in the process—playing with boundaries and setting off for discovery.


Andy Demczuk
Brianna Bass
I speak through spacial languages to develop a new form of literature. The words of these languages are chosen out of shapes and numbers found in Paint by Numbers kits, chord progressions, feedback, and stop motion animation. My practice is interdisciplinary: I combine acrylic painting and stop motion, characters and sound. Putting ideas into words compromises a concept. As languages must settle on a meeting point of communication, my work explores what exactly is compromised. Templates permit my creation, but are also the construct limiting what is articulated. I embrace and detest these constructs, such as the lines in the Paint by number kits and the chords in soundscapes. Each artwork plays with connotations. Some connotations are distorted beyond recognition, and some are blatant. Translation is inevitable and insufficient, and my art brings prose back to what is lost.

\\

Andy Demczuk was born in Oceanside, CA in 1990. He studied guitar and songwriting at the Musician's Institute in Hollywood, CA. In 2011 he moved to the French Alps, where he led international volunteers in art and music workshops and facilitated intercultural collaborations. Upon returning to the US, he fused his passion for psychedelic anti-folk music with visual art. His practice combines jazz improv techniques and synesthetic meditations via multimedia painting, drawing, video, and sound design. His work attempts to locate and feast on templates where they exist, a process which often draws from his subconscious narratives. Andy is currently writing a book of creative fiction inspired by his experiences in communal life abroad. He is pursuing a Master of Arts in English Literature to further investigate how the mind functions during the process of creation and how combining the verisimilitudes of music, visual art and literature can be fruitful for exploration. Andy is represented by Good Naked Gallery in Brooklyn, New York.
JANUARY 29th-31st 2021

If red is C, then red-orange is C sharp, orange is D, and orange-yellow is D sharp...

For this body of work, the chromatic and musical scales have been fused, and through the resulting system of relationships, I work to translate sheet music and musical structures into color fields. Through this process, color is instrumentalized and the music is played through painting.

This system is not meant to be the interpretive manifestation of a preexisting synesthetic condition. Rather, it aims to forge new synesthetic connections between music and color, enabling deeper understanding of both. In coping with hearing loss for the past few years, I wanted to create a reliable process through which I could intimately explore music, engaging the language of color as synesthetic prosthesis. By primarily selecting well-known songs, I hope to provide a key for viewers to sense and decipher sound in the paintings.

In the sheet music translations, vertical marks represent eighth notes (or sixteenth notes, in some paintings). Rests are grey. Typically, the top three bands in the paintings are vocal, treble, and bass staves. Each color represents the same note throughout the paintings.

\\

Brianna Bass (b. 1990) is a painter from Knoxville, Tennessee. She is a co-founder, curator, and writer for Mineral House Media, an artist-run, web-based platform designed to elevate Southeastern contemporary art through interviews, analyses, podcasts, mini-documentaries, and an online residency program. Brianna earned her BFA in Painting and Drawing from the University of Tennessee at Chattanooga in 2013, during which time she chaired the Student Advisory Committee, facilitated exhibitions through the Apothecary Gallery Committee, and was awarded the Peggy Stagmire and Lillian B. Feinstein Scholarships. She has presented in public lectures with Stoveworks and Shapeshifter, and has been selected for juried exhibitions at Groundfloor Gallery and SECAC 2019. Brianna has shown work nationally and internationally at Missouri State University and Beijing's Tree Museum in 2020 and 2021. She has been selected for Locate Arts' Tennessee artist registry, and her writing for Mineral House Media has been featured in Number: Inc Magazine, highlighting recent trends in Tennessee art. Brianna is currently an MFA candidate at Yale School of Art.
Coloratura
A poem by Andy Demczuk

I'm in an art show in a basement.
The gallery of tinfoil pipes: see underside of house for details
Metal stilt-like spider legs prop up the foundation
I don't know how much brick does for holding these days.
I want to pluck the grey petals off the sprinkler above my head
And let my knock-off dragonfly Tiffany lamp
Pollinate its bare landing.
My paintings weigh down the strings and wires taped on their backsides.
I don't use canvas or frames—just the board that comes with the paint.
A good deal if they're on sale.
Each piece is its own dissected nostalgia
Like a diagram of frog organs.
Or a sign in the desert that reads:
Coloratura
One of the two dragonflies on the pull-down
Chains is missing.
When you pull-down
It doesn't feel the same,
But the light still goes on.
I tie the strings
To a rusty water pipe that runs a staircase angle in and out of the brick wall.
Above is a kingdom of pink insulation.
I didn't know glass could be fluffy
It's real DNA, she says.
Looks like the inside of my skull would feel if I knew how I felt.
The Tiffany lamp is a glowing orb,
Sporting an unaffordable stain glass mosaic that fractures
Into bone marrow with shards of figurative insects.
I tend to think better in that light, when I have these creatures burrow my soft edges
And my hands don't look so vivid.
Dragonflies' sanguine eyes expand, pulsating rubies
With every lie I call truth, with every stanza of Faerie Queene.

One painting in the exhibition is of a thatch roof cottage in Brittany,
Sky is pink just like the puffs insulating 90% of houses.
Other portraits are of other things that tickle the bourgeois fancy.
Birds, flowers, parks.
I picked them out at the store like puppies, paws on the cage.
I just fill in the shapes—ignore the numbers until a chord arrives.
Numbers don't mind. It's the lines that get you.
Though, every now and then,
I'll catch a 5 longing
To be baby blue
To resolve to 1 in the song.
In a little voice over and over.
One had an odd request:
To be the pastel sage Vuillard used for dresses and tapestry.
By this time, I finished a merlot and digested a stomach's full
Of Errour's vomit, one of Spenser's serpent women.
Say she's a muse instead of a monster.
DNA then crawled out my desk
And ate the wood like acid beetles: forming the edges of nirvana
Which pulled me inside, in spite of my lack of particles.
The art critic arrived with a smile
And gave a good review
Before my deceptive paintings peeled off the dirty walls
And just dangled there lifeless.
When they awoke, they floated like balloons in the room?
'We are all a little of everyone' Errour said before taking off.
'I'm just tired of being everything:
Covered in mistakes and made of them—
And then eaten alive by my own children.'
If this basement is a cave, then my paintings are tasting their past lives as kites
As the house drifts off into space leaving its DNA-newsprint-shroud.
I lick my lips and clinch my capo, 3rd fret,
To get some egg sack distance
To shake off that heavy dust spewing from those
Fraudulent Dragonflies.
Then again, that's the air I breath.

The notebook on my lap is filled with cursive

Stick-figure-me, eight years old
I love with squiggly lines.
Like a diagram of frog organs—
A Coloratura
--> Home